The
State Climatologist program was orphaned by the Federal Government in 1973 during budget reductions in that recession. Since that time, every state has reestablished their State Climatologist, with Pennsylvania finally filling this vacancy after more than two decades. In cooperation with the National Weather Service's Central Pennsylvania Forecast Office and the National Climate Data Center (Asheville, NC), the Pennsylvania State Climatologist will be providing detailed climatic information, primarily for Pennsylvania in a timely manner. Some national and international climatic data is also available. Since more than twenty years have passed since this office lastserved Pennsylvanians, some data is more readily available than others. It is the goal of this office to connect you with the best data source as quickly as possible (including occasional direction to sources outside of this office). This page is ever evolving, so watch for updates and new products that will be available through the Pennsylvania State Climatologist.
Our Staff
Paul Knight, Pennsylvania State Climatologist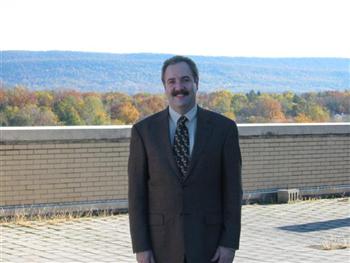 Paul Knight has been the Pennsylvania State Climatologist since 1994. He is also a senior lecturer of synoptic meteorology at Penn State University. He teaches courses in Weather Prediction, Mesoscale Forecasting, Mesoscale Topics, Forensic Meteorology and Weather Communications. His research interest lies in pattern recognition and its application to artificial intelligence in forecasting significant weather events. Paul has been a senior forecaster for The New York Times since 1986. He, along with four other colleagues, produces the weather page for the Times each day. Paul has also been the producer, co-host and on-camera meteorologist for WPSU-TV's Weather World, a fifteen minute, weeknight weather magazine show seen on Pennsylvania PBS stations since 1983 and since 2004 on PCN.
Paul was a team forecaster for Wyoming Centennial Expedition to Mount Everest. He was co-chairman of the National Collegiate Weather Forecasting Contest for six years. Paul holds the American Meteorological Society's and National Weather Association's Television Seal of Approval and is a certified consulting meteorologist and is the current president of the American Association of State Climatologists. He received the Wilson Award in 1994, the highest teaching award for the College of Earth & Mineral Sciences at Penn State, the AMS Broadcast award and Pennsylvania Broadcaster of the Year award both in 2003. He has been quoted in more than 100 newspapers and magazines, including National Geographic and has appeared on ABC, CBS and NBC national news as well as FOX News.
Paul lives in State College with his wife, both his children attended Penn State.
Kyle Imhoff, Assistant Pennsylvania State Climatologist/Database Manager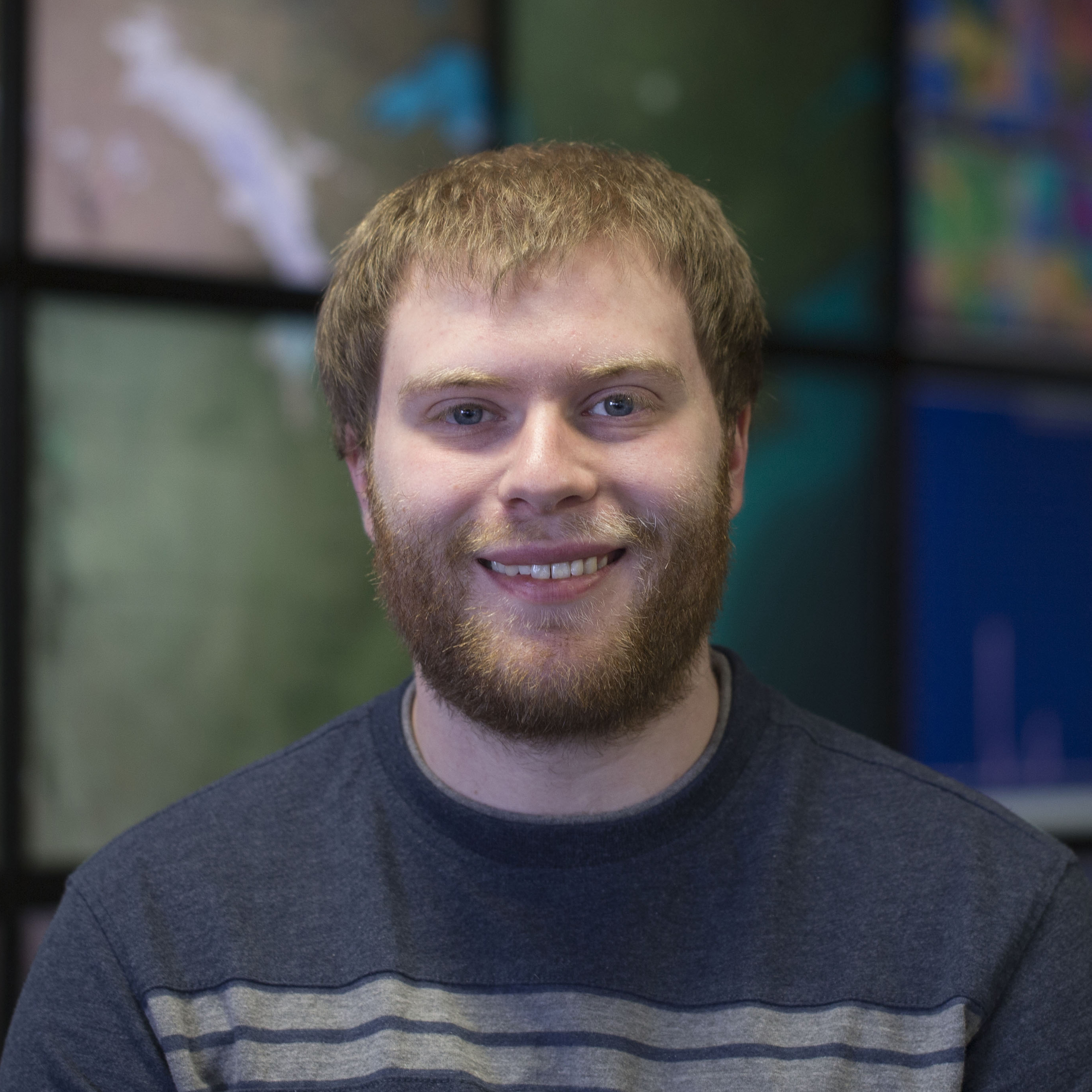 Kyle Imhoff joined the Pennsylvania State Climate Office in August 2011. Kyle's responsibilities include managing databases, assuring the quality of the data, managing the web interface, and providing assistance to the Pennsylvania climate studies course.
Prior to joining the Climate Office team, Kyle focused on weather forecasting and assisted in producing winter weather forecasts for the Pennsylvania Department of Transportation in District 2. Kyle also worked as a Research Assistant at the University of Alaska Fairbanks in the summer of 2010.
Kyle was born and raised in Pennsylvania. Currently, he resides in State College, but his hometown is in Rockwood, Pennsylvania. While at Penn State, Kyle majored and earned his B.S. and M.S. degree in Meteorology.
Arthur Person, Projects Assistant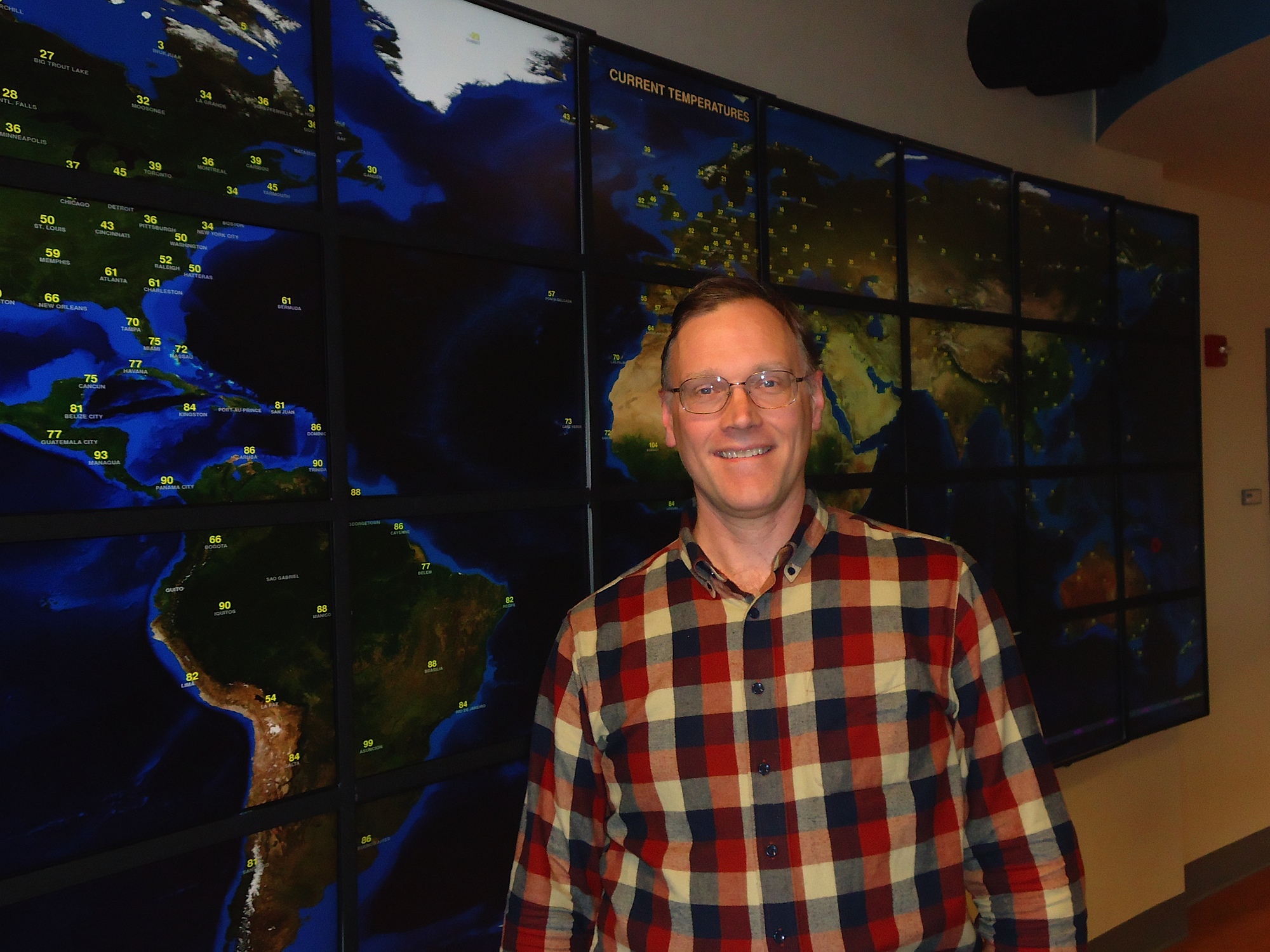 Arthur Person has developed and managed meteorological data systems and analysis software since the 1980's at Penn State. He holds bachelor's degrees in Meteorology and Speech Communications, and a Master's degree in Meteorology, all from Penn State. His role as a Unidata systems administrator at Penn State has afforded many opportunities to advance data availability and analysis capabilities for Penn State as well as other Universities through the maintenance of an Internet Data Distribution (IDD) data relay and Unidata analysis and display software. Art also maintains Penn State's Bufkit Data Distribution system originally developed by a Penn State student as part of a meteorology computer programming course and is now used by meteorologists around the world for accessing bufkit data. He also manages a Unidata THREDDS server which provides immediate access to weather information in real-time including historical archives of bufkit data. Art served on the Unidata Implementation Working Group in 1988, received an Outstanding Staff Award for Instructional Support in 1994, and has won forecasting contests as a staff participant in the National Collegiate Weather Forecasting Contest. Art joined the Climate Office staff at Penn State in 2012 and is now putting his meteorological, system management, and programming skills to use contributing to the maintenance of the Climate Office web presence, weather data collection, and weather data analysis. Art resides in State College, Pennsylvania with his wife, two children, and a much-loved Lhasa-Poo
Fall 2015 Climate Office Helpers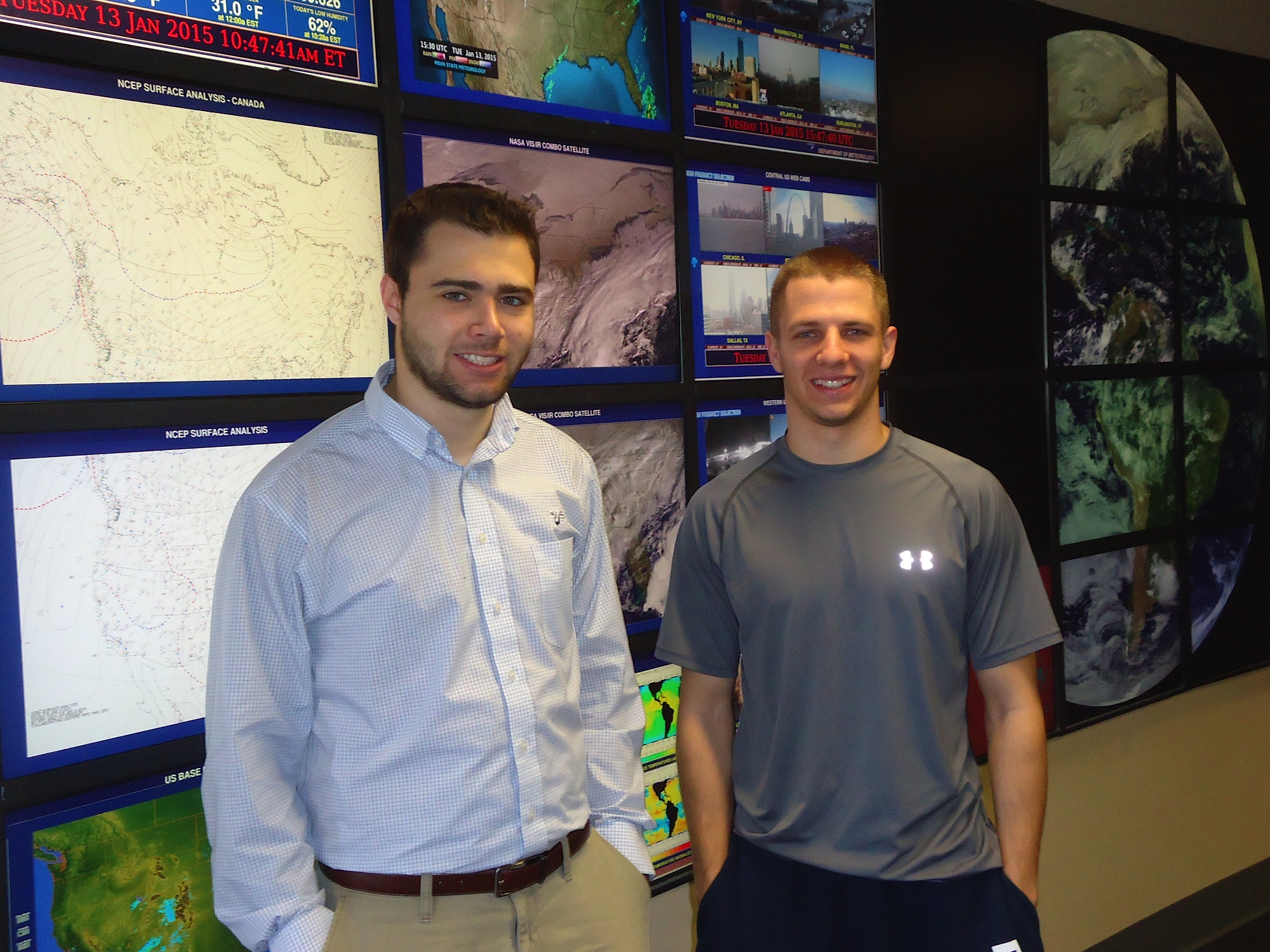 Above: Rob Englund and Stefano Dipietro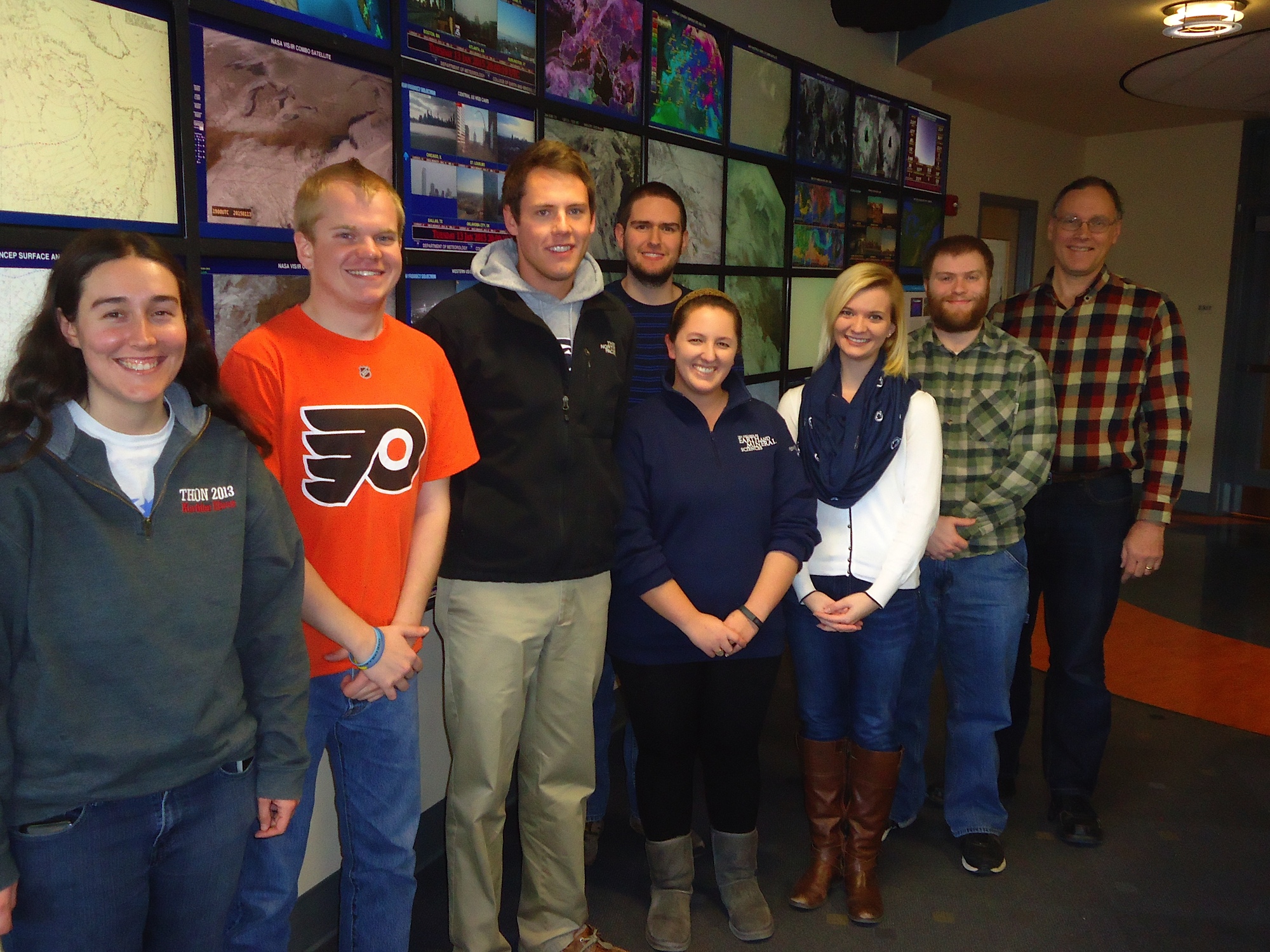 From left to right: Kelly Balmes, Brian Adams, Justin McCoy, Bryant Sell, Catherine Menke, Christina Reuille, Kyle Imhoff, and Arthur Person. Missing: Lacey Morrow and Jillian Bohenek
Climate Office, Fall 2005 and Spring 2006
Alexis Phillips (left) and Julie Malingowski (right) receive the ZedX Weather Information Technology Award for their contributions to the Pennsylvania State Climate Office at the 37th Annual Penn State Department of Meteorology Spring Banquet held on April 18th, 2006.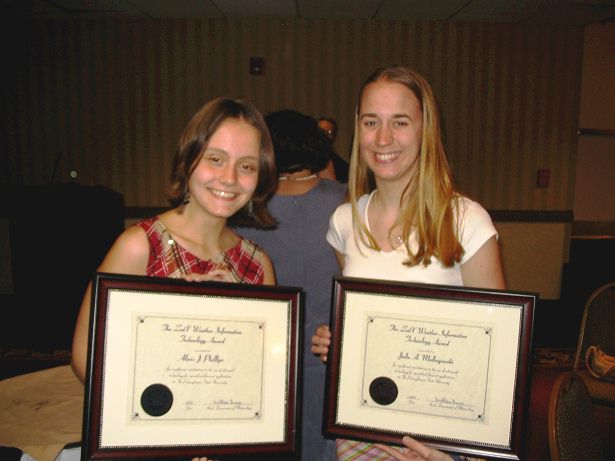 At the end of the 2006 Spring semester, the Climate Office staff enjoyed lunch in downtown State College at The Sports Cafe. Here, Katie LaBelle, Joey Mays, and Alexis Phillips patiently wait for their food.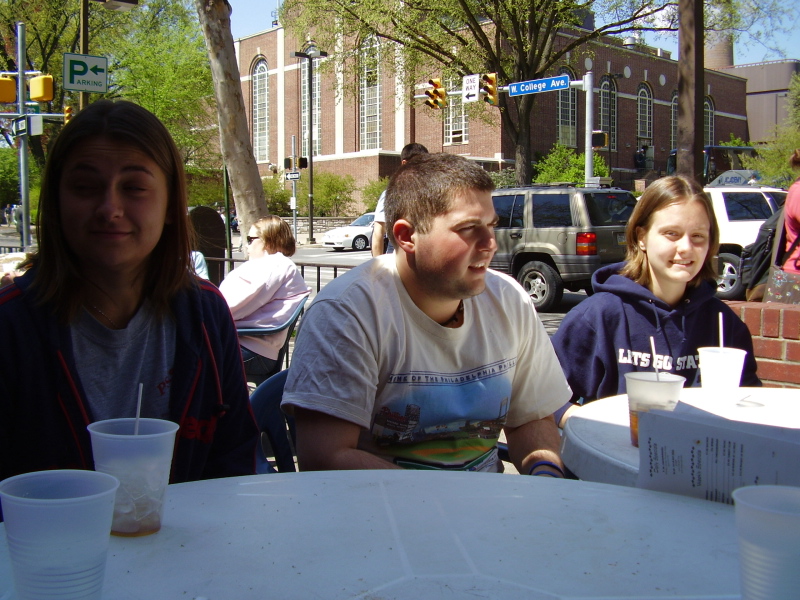 Julie Malingowski embraces the photo opportunity and is flanked by Sonya Miller and Steven Greybush.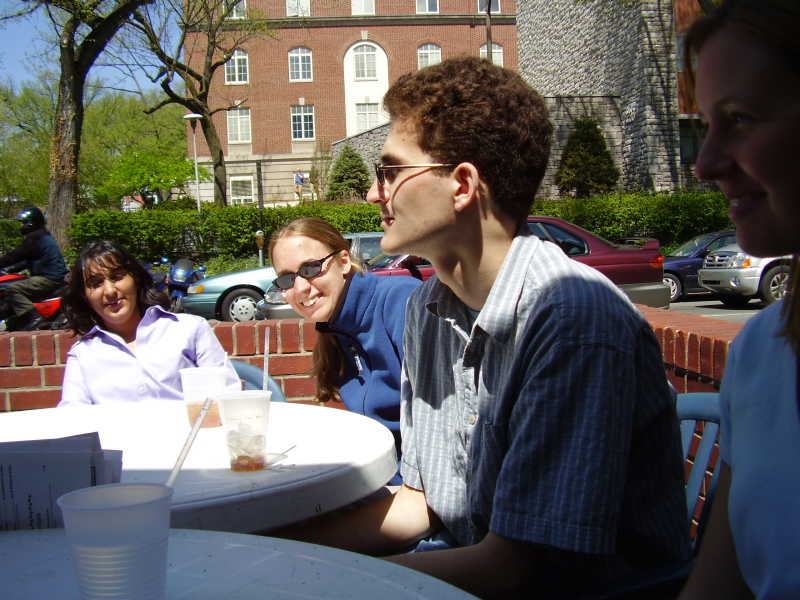 A candid Paul Knight and Chad Bahrmann enjoy some social time with the Climate Office assistants.